---
As a singer, you possess the ability to transport an audience on a musical journey with the gift of your voice.
Looking at you and seeing the emotion as you sing also adds another magical dimension to the experience of the listener.
Music often leads to us experiencing emotions of our own and it also enables us to relate to what the singer is feeling. This makes you not only connect more closely to the song, but to the singer as well.
Singing with emotion is a wonderful way to connect with your audience, become more memorable and leave a lasting impression.
Sing Your Genre
Every vocalist has a singing style and type of song which complements their voice. Norah Jones sings with a breathy tone which is perfectly suited to jazz, whereas Cher's strong and distinct voice is practically made for pop.
Focus on finding the style best suited to yourself, your voice and, thereby, your feelings. Then choose your songs accordingly.
When your voice connects well to a song, it will connect to your audience as well. As the performer, you already have the room's attention turned on you. By singing expressively, and doing so through the right song, you connect and take them along on your emotive journey.
Don't be scared to experiment and change the tempo or style of a song to suit your tone. It's always recommended adding a bit of uniqueness so that you can make the song your own.
Live The Emotion
In order to give a thoroughly moving performance, you must firstly aim to feel the emotion within yourself.
As a starting point, analyse and break down your chosen song into bite-sized pieces. Reflect on the meaning of each line and also on which emotion you wish to convey whilst singing it.
If at all possible, choose a song to which you can relate emotionally. This always gives you an instant advantage. With a song you genuinely connect with you will literally be able to sing from the heart and draw from your own experiences, thereby evoking the relevant and natural emotions.
Remember that an emotional performance tugs at the heartstrings of your audience, and perhaps even more so than a pitch perfect song without any real facial expression. Think of the last time you felt connected to the singer at a concert or festival, and you will more than likely find it was while they were pouring their hearts out through their music.
Adding The Emotion
Apart from actually feeling the emotion, there are some other ways in which you can support the mood and tone of your song.
Pronunciation and volume can be altered – for example, you can whisper or breathe out a word or alternatively emphasise or even shout it loudly. Think Chris de Burgh's very last utterance in "Lady in red".
Other Tricks
Some artists also have the ability to create a crack in their voice during a melancholic song, but this is something that you will have to explore during your practise sessions. Others add colourful sounds or well-timed laughs or smiles.
Both of these can be extremely helpful in creating an emotional piece and convey the feeling to your audience in yet another way. Remember to always do it with confidence and genuineness, however, as you don't want to sound "manufactured".
Intoxicating Sound
There are few things more intoxicating than the power of music. Part of being an artist is the feeling that your work or music conjures within your listeners. By communicating your emotion through song and expression, you allow your audience to not only remember your singing ability, but also the way it made them feel when hearing it.
By singing with emotion and connecting to your audience, you can even evoke various physiological responses…some of which include the rising of body temperature, increased heart rate and one of the most powerful – the chills.
Even on a bright and summery day, listeners of your music can experience this mental reward due to the release of dopamine, and this becomes evident in the form of goose bumps. What a wonderful privilege it is to create such wonderful reaction by tapping into your emotional state with a musical gift of being able to sing with emotion.
---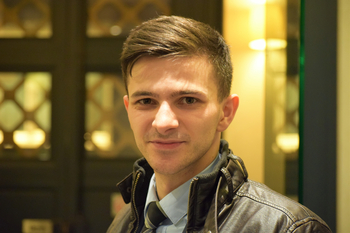 About the Author: Brian Collins
I am a classically trained singer who believes that every instrument requires maintenance - including the voice! I started my professional music studies at the age of 8 and competed in and won several local and state piano competitions. I graduated with honors and earned my Bachelor of Music Education in 2003, and since then I have studied with famous musicians and teachers around the world. I have also completed hundreds and hundreds of voice lessons, exploring various methods, and attended countless seminars on voice coaching for all ages.
---