---
Whether they are performing swooning love songs, hard rock anthems, or old school melodies, every famous has their favored guitar or – very often – collection of guitars.
Ever wondered what guitar your favorite player prefers to use?
Here's our list of some of the world's most loved and most famous guitar players of all time:
Ed Sheeran
Born Christopher Edward Sheeran in Yorkshire, England, Ed is both a singer and a songwriter. Growing up, he sang in the church choir, learned guitar at a very young age and dropped out of school at 16 after to move to London.
Ed's biggest hit to date is "Thinking out loud" for which he won two Grammy Awards namely "Best pop solo performance" and "Song of the year".
When it comes to guitars, Ed plays mostly acoustic ones with his loyalty lying almost completely with the American manufacturer, Martin. Started in 1833 by German immigrant Christian Frederick Martin Sr, this company has been around for more than 175 years.
Ed has been playing Martin guitars since he was 16 and now also has his own signature Martin called the Martin Ed Sheeran X. It is based on the Martin LX1E and shares mostly the same features along with a few added visual delights.
Fender Stratocasters is his preferred type of electric guitar and his main one is an Eric Clapton signature.
Eric Clapton
Eric Patrick Clapton was born in 1945 in Ripley, England. His illustrious career as a singer, guitarist and songwriter span several decades...and includes several guitars.
He has also belonged to several bands throughout the years, some of which include Cream, Derek and the Dominos, The Yardbirds and John Mayall & the Bluesbreakers. He has also won several Grammy's including "Best male pop vocal performance" for Tears in Heaven and "Album of the year" for the album, Unplugged.
Another testament to his incredible talent is the fact that he is the only artist who has been inducted into the Rock and Roll Hall of Fame, not once or twice, but three times.
According to Eric, his first "serious" guitar was a cherry red Gibson ES-335, which he called the "instrument of dreams".
One of his most famous guitars is the Gibson SG - rumored to have belonged to none other than George Harrison himself. It is believed that Eric received this guitar after his own Gibson Les Paul was stolen. The Gibson Les Paul was predominantly used during his time playing with The Yardbirds and John Mayall & The Bluesbreakers.
Angus Young
Angus McKinnon Young was born in Cranhill, Scotland in the mid-50's and moved to Australia with his family when he was 8 years old.
He is a songwriter and plays lead guitar for the band AC/DC, which he also co-founded in 1973, along with his brother Malcolm. AC/DC has released some of rock's greatest hits, with songs like "You shook me all night long" and "Highway to Hell".
Angus left school at 14 and purchased his very first Gibson SG at the age of 16. Amazingly, and remarkably, he still owns this guitar.
It is his absolute favorite and one of the guitars he still uses most often. Being a huge Gibson SG fan, a collaboration between Young and Gibson has also led to the making of the Angus Young SG.
This world-renowned rocker with his "duck walk" has also been inducted into The Rock and Roll Hall of Fame.
Slash
Slash, born Saul Hudson, did so in Hampstead, England in 1965.
The very first instrument he ever played were the drums. After that, he played bass and later made the decision to switch to guitar.
A teacher further influenced this decision by playing Cream and Led Zeppelin songs during class. Black Dog by Led Zeppelin is still one of his Top 10 favorite guitar riffs of all time, with Eric Clapton, Angus Young, and Jimi Hendrix being some of his much-loved musicians.
Slash himself would become most famous as the former Guns N' Roses guitarist, receiving several critical acclaims ranging from Rolling Stone magazine as well as being inducted into The Rock and Roll Hall of Fame.
His first ever guitar was a Gibson Explorer received from his grandmother, but soon found himself drawn to the Les Paul.
Owning more than a 100 guitars today, the Gibson Les Paul is his weapon of choice. He calls it "the best all-around guitar for me", and during most studio sessions he makes use of his 1959 Les Paul Standard replica.
Elvis Presley
According to John Lennon, "Before Elvis, there nothing."
The King of Rock and Roll himself emerged from nothingness into the world, Tupelo Mississippi to be exact, on January 8th, 1935. He was christened Elvis Aaron Presley but to the world, he would simply be Elvis.
The Blues Suede Shoes singer is not necessarily famed as a guitar great, but he had no shortage of guitars.
His first was a $7 dollar Kay guitar bought by his mother from the Tupelo Hardware store when he was 11. Kay was an American instrument manufacturer operational between the 1930's and the 1960's.
Some of the Gibson guitars Elvis played include the Gibson Country And Western, Gibson Dove Acoustic and the Gibson J 200.
He also played a number of Martin guitars, including a Martin D-18, D-35, O-18, and D-28.
The Martin D-28 was one of the last guitars used by Elvis before his death in 1977.
Elvis was inducted into the Rock and Roll Hall of Fame in 1986, but as a performer, not a guitarist.
Eddie van Halen
Edward Lodewijk "Eddie" Van Halen was born in the Netherlands in 1955. Growing up he was obsessed with Eric Clapton, and in 1972 formed his own band, Van Halen, in Pasadena California.
Eddie is known for his incredible speed and innovative playing on the guitar.
His two-handed fretboard-tapping would be but one technique that he would introduce to the masses. He is also a phenomenal shredder and pieces like "Eruption" (1978) and "Poundcake" (1991) are still considered some of his greatest guitar solos today. In 2007, Van Halen became inducted into the Rock and Roll Hall of Fame.
The first guitar Eddie owned was a Teisco Del Ray WG-4L. Teisco guitars were originally manufactured in Japan and exported to the United States under various names.
Possibly Eddie's most notorious guitar is the "Frankenstrat", or "Frankenstein", a customized guitar combining the sound of a Gibson guitar with the physical qualities of a Fender.
Later on, Eddie replaced the neck of the guitar with a Kramer Banana Neck. A few of his other Kramer guitars included the Kramer Baretta and Kramer DoubleNeck.
Kramer guitars was founded in 1976 in New Jersey. Ending production in the early 90's, Gibson guitars acquired the company. Today, Kramer forms an especially strong shred guitar division within Gibson.
There is a multitude of other guitars that Eddie has used over the years and some others include the Gibson Les Paul, Gibson ES-335, Ibanez "Shark" Destroyer, EVH Wolfgang (Wolfgang being the name of his son) and the Charvel EVH Art Series.
---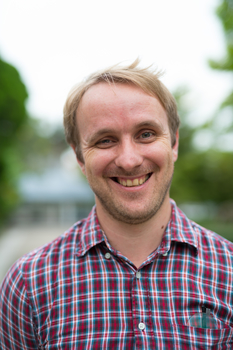 About the Author: Joseph Evans
My name is Joseph Evans and I am a guitar playing, freelance writing, online teaching music lover based in Seattle, WA. Growing up in a musical family naturally lead to obtaining my Bachelor of Music (BM) in Composition & Music Theory degree, after which I taught and traveled my way across Europe for 7 years before returning back home to settle in beautiful Seattle. On a typical day, you would find me playing my guitar, pottering around in the vegetable garden, going on long hikes, reading and/or writing.
---