---
Most people, at some point, become interested in learning to play the guitar. Great choice of instrument! It's fairly portable, relatively inexpensive and easy enough to learn the basics, no matter what the age. Not to mention, it makes a great traveling companion.
If you're just starting out, there's no doubt you're still trying to get your head around the basics, but there are some mistakes that all beginners, and even intermediate players make.
Knowing what they are before you make them could save you some valuable time, money, and a lot of heartache...
Here is a list of the top 10 most common mistakes you should avoid:
1. Lefty Versus Right-Handed
This mistake may be more common than you think...
As with holding a pen and writing, one of the easiest first steps playing guitar correctly is establishing whether you are a left- or right-handed guitarist. In other words, if you are right-handed do not buy a left-handed guitar.
2. Go Acoustic
I always recommend an acoustic guitar because it brings so much more independence. When playing an electric guitar, one is always dependent on an amplifier, and transporting a whole tune is more difficult.
Granted that the steel strings may be a bit hard on the fingers at first, you should never underestimate the purity and sound quality of an acoustic guitar. Which brings me to strings...
3. Correct String Selection
Be sure to make the correct string selection for your specific type of guitar. String sets fall into the following two major categories:
• steel-string
• nylon-string (better known as classical string sets)
Always remember that all steel-string sets are metal and should absolutely never be put on a "Classical" guitar as the guitar neck is unable to handle the tension steel-strings present.
4. Avoid Heavy Strings
Don't assume you should start practicing with the strings on a newly bought guitar either. Forget about having heavy strings while practicing, and instead, install the lightest strings possible. This will make practicing a lot easier, and you can gradually go from thin to thicker string as you build hand strength and stamina.
5. Setting Up Properly
Most beginners also assume that their newly bought guitar will be professionally adjusted. The opposite is usually true, especially if you bought your new guitar online. Due to mass production and the volume at which guitars are produced and distributed, manufacturers and online retailers do not have the time to give every single new guitar personalized attention. You will most probably have it set up by a professional in order to get the sound and feel right.
Should you buy a guitar on-site from your local music store, insist that a "full setup" be included in the sale. Most retailers will also be able to accommodate you with a fresh set of strings, at your request.
It is very important to tune your guitar with every practice session. There are many free apps available nowadays to help you get your tuning just right, and this will assist you in learning how guitar sounds and chords actually sound. You can also buy a tuner at your local musical instrument retailer.
6. Plectrum Or Fingers
This is still a hotly debated topic, but I always recommend a plectrum. When playing with a plectrum you develop better movement of your wrist and will therefore be able to catch a specific string more efficiently. By using your plectrum, those uncomfortable and possible painful calluses will most definitely be avoided. This doesn't mean you should avoid one or the other, however.
7. Holding Your Guitar Incorrectly
Be careful of falling into bad habits that may hinder you from reaching your full potential.
Not being able to play that specific chord/s may be directly linked to not holding the guitar in the correct manner. Do your homework and watch the necessary videos on Youtube or read that "Playing the guitar made easy" book you bought, but never opened.
8. Sources of Information
With the internet available almost everywhere, any tip or trick is widely available to anyone. Be mindful to how many sources of information you decide to follow or go with. I always recommend to only use advice that you are comfortable with. It is pointless in doing something that feels forced or uncomfortable. This will not make you a better guitar player, but will most likely keep you from moving forward and playing the guitar in a natural way that works for you.
9. Focus and Dedication
You start something new, not succeeding at the first try, and just decide that you are just not good enough to do this. We have all been there at some point in our lives.
Remember, without making mistakes when you practice, you will never be able to learn where improvement is needed, or where changes should be made. A good trick is to listen and make a loop of where you stumble. Focus on one goal until you can get identify where you are going wrong.
It might sound like this will take up an endless amount of time, but concentrating on one thing will better your chances of perfecting it and then enable you to move on. This will rule out that feeling of dread every time you start playing that certain piece.
Before you move on, however, ask yourself these questions.
• Do you know what you learned in your last practice session?
• Are you satisfied that you accomplished your goal for that session?
If you can answer yes to both the above questions then you can move on to your next goal. If not, do not move on until you are totally content with what you accomplished. Remember, each completed goal brings you closer to reaching your full potential.
10. Daily Practice
A common misconception many beginners have is that they need to practice several hours each day. This cannot be further from the truth. Use one hour per day totally devoted to practicing, and you will be amazed at how quickly you can progress. An hour per day is, in my opinion, is all you need to learn the guitar.
There are several other mistakes that beginners make, but following these guidelines will help you avoid novice mistakes while helping you on your way to playing your favorite songs. Don't be so scared of getting your guitar dented or scratched either, because if you never pick it up it will surely become an ornament in the corner of your room.
---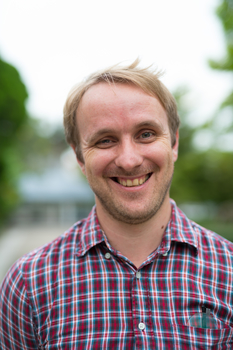 About the Author: Joseph Evans
My name is Joseph Evans and I am a guitar playing, freelance writing, online teaching music lover based in Seattle, WA. Growing up in a musical family naturally lead to obtaining my Bachelor of Music (BM) in Composition & Music Theory degree, after which I taught and traveled my way across Europe for 7 years before returning back home to settle in beautiful Seattle. On a typical day, you would find me playing my guitar, pottering around in the vegetable garden, going on long hikes, reading and/or writing.
---