---
Children can greatly benefit from music education. It offers a lot of fun, as well as the opportunity to learn! Numerous studies have confirmed that music helps with a child's development on an emotional and cognitive level. Even so, with the many benefits of sending your child for music lessons, getting them to practice regularly isn't always easy. But with the right motivation and a steady practice schedule, you can also help your child with their guitar lessons. Here are some tips for helping you and your child to succeed in the journey of music.
Assess Their Music Discipline
Before anything else, you need to assess whether your child is ready for the discipline of music.
If they can't pay attention for 15 minutes at a time, your child may be too young.

It's a true art to teach music to very young children and starting your child with an experienced teacher will then be the best option.
Remember that children don't all develop at the same time, and some will progress faster than others. Don't be afraid to wait a year or two.
Plan a Steady Practice Schedule
Any practice session is more effective when it's consistent and short. And planning a steady practice schedule will help the child in reaching their goals.

Dividing the practices into short 20-minute sessions of six times a week will be ideal.
Keeping it short helps your child's brain stay alert and focused – which will improve their memory in the long run.

If it's not possible to do 20 minutes a day, take a longer session and divide it into smaller sections with breaks.
By doing this, your child will improve faster than when they practice long sessions every other day.

Letting your child take breaks also helps them to avoid feeling overwhelmed. It lets your child return to their practice session with more excitement and energy.
Find Age-Appropriate Songs
To keep your child motivated to practice, you have to keep it interesting for them. And choosing the right songs is half of the battle won!

Compiling songs that suit your child's age, interests, and level of skill will motivate them to stay invested in their learning process. Your goal should be to keep the practice session low-stress and focused on the achievements.

It may be hard work and a lot of research at first, but you and your child will eventually pick the fruits of your labor. And like they say, hard work pays off.
Specify a Dedicated Practice Space
It makes a huge difference when you allocate a dedicated space for your child to practice in. Giving them a space that belongs only to them and their instrument can make them feel special and motivated.

This space should have no electronics like a television or a computer if possible.
By avoiding these distractions, your child will benefit more from each practice session and focus better on the task at hand.
You can always decorate or display your child's achievements in the space to create a positive surrounding.
Use Games During Practice
Don't be afraid to use games during younger children's practice sessions. Games help keep young children interested in learning. This is especially helpful for children that get nervous or agitated when they make mistakes.

The Penny Game works well with difficult passages that require repetition. Place five or ten pennies (or skittles) on the one side of the music stand as their prize.

Every time your child plays the difficult passage without a mistake, move one penny to the other side. But every time they play it incorrectly, move all the pennies back to the other side.

Let them keep trying – keeping breaks in mind – until they get all of the pennies to the other side. Then reward them with the pennies (or skittles).
Have a Friend Join Them
Children love hanging out with their friends. So, why not encourage your child to invite a friend to join the guitar practice?

Having a friend by their side during a practice session can help in creating a more exciting atmosphere. It will add to their interest and their need to practice more. And, of course, friendly competition can even give your child that extra nudge in the right direction.
Inspire, Encourage, and Learn
When the child sees their parents engaging in the learning process, it will make them more excited.
Taking the time to join them in their practice session – whether you give it a go with the guitar or listen intently – inspire them to care about what they're doing.

Make sure you take the time to ask them about their lessons and what they've learned so far.
All this time and effort you invest into their world of music is extremely important because, ultimately, showing them you care creates an ideal and motivational atmosphere; something they will learn to thank you for when they grow up. And that is priceless...
---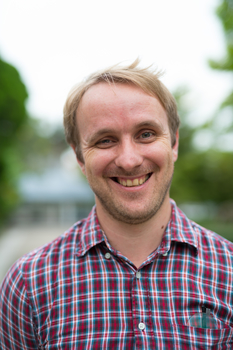 About the Author: Joseph Evans
My name is Joseph Evans and I am a guitar playing, freelance writing, online teaching music lover based in Seattle, WA. Growing up in a musical family naturally lead to obtaining my Bachelor of Music (BM) in Composition & Music Theory degree, after which I taught and traveled my way across Europe for 7 years before returning back home to settle in beautiful Seattle. On a typical day, you would find me playing my guitar, pottering around in the vegetable garden, going on long hikes, reading and/or writing.
---