Chopin Prelude in Db Major Op. 28 No. 15
Written by Chuck Newsome
The last example we will examine in this study is another of Chopin's most famous compositions. Prelude No. 15 in Db major, the "Raindrop Prelude" is an important piece of today's concert repertoire, primarily due to its lyrical nature and memorable melody. Because of its importance, the melody is included above the harmonic reduction in Figure 6 (shown on the following page). This prelude is the longest of the 24, at 90 bars in length, certainly a stark contrast from the 12 bars of No. 9. Due to its length, this piece contains a long "B" section, in the parallel minor, written enharmonically as C# minor. Perhaps the most important characteristic of the texture of Prelude No. 15 is the continuous eighth note pedal found running throughout almost the entire piece. The pedal is almost entirely on degree V, Ab during the Db major sections, and G# for the C# minor sections, but some momentary divergences to other pitches provides Chopin with a means with which to highlight particular harmonic movements.
Appoggiaturas, passing tones, and suspensions can be found throughout No. 9. In addition to providing melodic interest, many can be thought of as extensions of the harmony because of the consistency with certain pitches are used. 9ths and 13ths appear throughout on dominant chords, as well as 6ths on major chords, and 9ths on minor chords. As mentioned in the introduction, these pitches seem to serve a dual purpose; they take a step toward extending traditional harmony to include more upper structure pitches as functioning parts of the harmony. The analysis below is intended to stand on its own as a study of this prelude.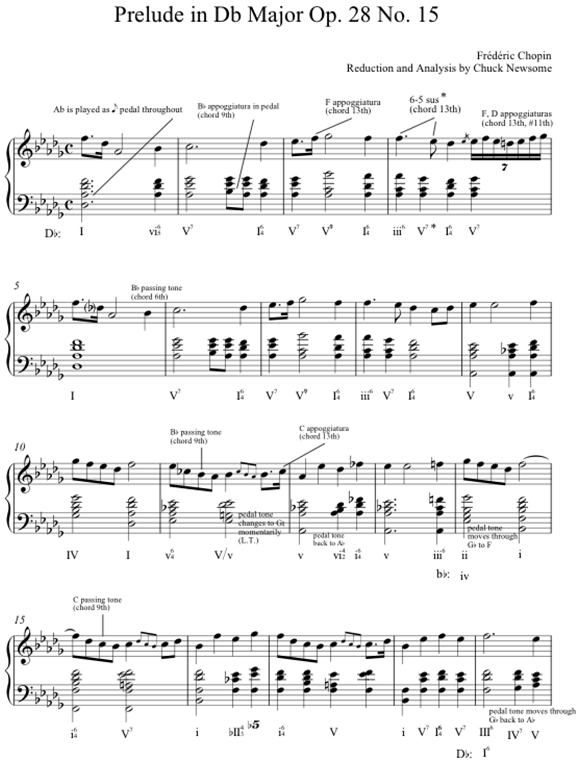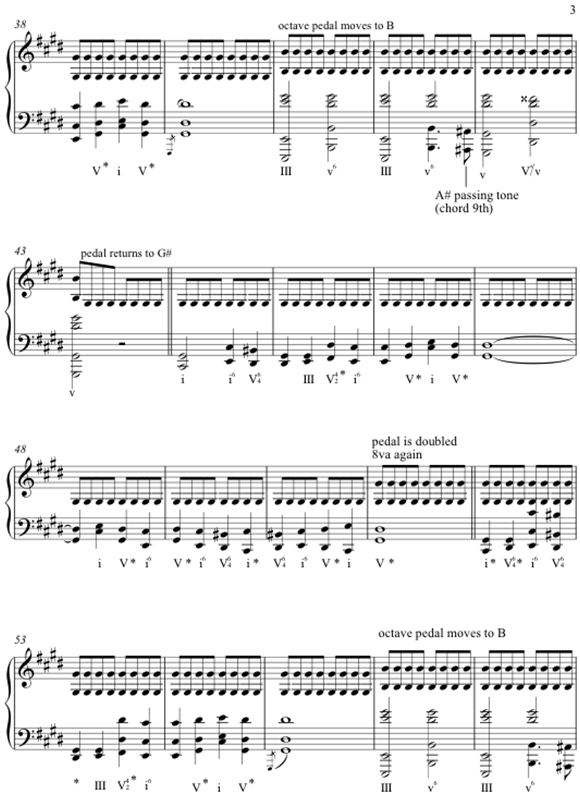 In conclusion, Frédéric Chopin was able to achieve balance between functionality and chromatic interest in the harmony of his 24 preludes, and many of his other compositions, through use of smooth voice leading. The forward-thinking tendencies of the composer emerge in his use of "upper extensions", altered tones, and German augmented sixth chords descending in half steps—all common techniques in jazz composition. Despite their contrasting styles, Prelude in E minor Op. 28 No. 4, Prelude in B minor Op. 28 No. 6, Prelude No. 9 in E major and Prelude in Db Major Op. 28 No. 15 serve as excellent study pieces to better understand Chopin's expanded harmonic techniques. Chopin's influence was felt immediately by his contemporaries and has extended far beyond the Romantic Era and into the vocabulary of 20th century American jazz.
Expanded Harmonic Vocabulary in the Preludes of Frédéric Chopin
Chopin Prelude in E Minor Op. 28 No. 4
Chopin Prelude in E Major Op. 28 No. 9
Chopin Prelude in Db Major Op. 28 No. 15

Additional Piano Library Articles
Helpful Piano Lesson Videos